eBook:
Four Must-Haves
to Put AI
Into Practice.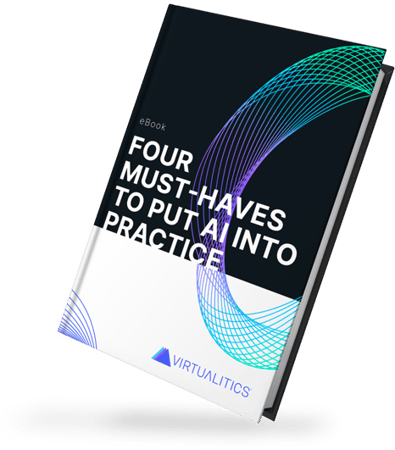 Discover the four key capabilities you should look for in an AI platform.
We all know the potential of AI is massive. It can transform everyday business data into increased revenue, cost savings, and new business opportunities. But even with all of this potential, only a small percentage of organizations are using AI to enhance daily decisions.

In this ebook, we explore the four must-haves for driving AI success in the business and bridging the gap between data science and business outcomes.
We'll cover:
Data Visualizations - The role of network graphs and the powerful context they provide in exploring data and creating more accurate ML models and predictions.
Collaboration - How a shared virtual environment can bring distributed teams together to solve complex data challenges.
Explainability - Why transparency and explainable AI are critical to building trust and credibility.
Data Science in Action - How to turn data science into business outcomes and automate enterprise decision making at scale.
END-TO-END AI SOLUTION
Why Virtualitics?
Empower everyone
Make reliable business decisions, faster, with ready-to-use AI that can be understood—and used—by analysts and business stakeholders alike.
Demystify AI
Uncover the hidden relationships in your complex data with patented 3D visualizations and build trust in the AI with scenario modeling.
Make smarter decisions
Embed advanced analytics into the flow of everyday work with AI-generated ecommendations with one-click access to the means to act on them
About Virtualitics:
Virtualitics, Inc. is an advanced analytics company that helps enterprises and governments make smarter business decisions, faster with ready-to-use AI that can be understood—by analysts and business leaders alike. Our AI platform allows organizations to rapidly process complex data into powerful multi-dimensional graph visualizations, and predict future business outcomes with clear, explainable no-code AI modeling. Virtualitics puts AI into use across the enterprise with enhanced analytics that's easily integrated into the flow of work. Our patented technology is based on over 11 years of research at the California Institute of Technology and NASA Jet Propulsion Laboratory.