Diving into Biotechnology by Industry Type
Using Machine Learning in Healthcare
The healthcare industry generates massive amounts of data. Unlocking its value can, however, be challenging. Although the healthcare industry shifted to digitization years ago with electronic health records (EHRs), there are still many obstacles, including exchanging data and compliance regulations. Machine learning in healthcare expands and touches many areas, deriving powerful insights and predictions from data models.
Continue Reading
How Analysts in Healthcare can Augment their Analytics with VIP
The world of healthcare has become one of the most demanding and quickly evolving industries. This has been highly driven by the rapidly changing technology landscape, where efforts are leading to faster and better research, development, and overall outcomes. The catalyst for this transformation has been the access to large troves of data and how organizations have been able to improve both quality and overall data utilization.
Continue Reading
Biotechnology Industry Use Cases
Virtualitics can help create a common language between biologists and data scientists 100x faster than traditional approaches.
Institute for Systems Biology
Understanding Influenza
Use Case: Institute for Systems Biology
Institute for Systems Biology's James R. Heath's lab utilizes Virtualitics Immersive Platform (VIP) to identify trends in long COVID-19.
The advent of large multi-omic datasets and data from individuals participating in scientific and clinical research created a growing need for computational solutions that can integrate these diverse data types.
Read More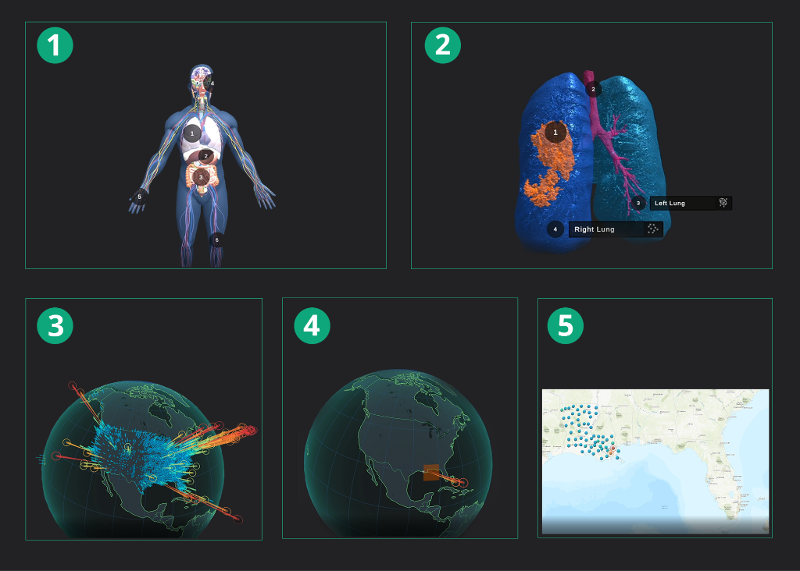 Use Case: Understanding the Dangers of Influenza for Lungs
Individuals with cancer are at greater risk of developing complications and dying from common illnesses and viruses, including influenza. So, when a research group from Columbia Medical School launched a study to explore the link between lung cancer mortality and flu epidemics, Virtualitics joined the team to provide state-of-the-art data analytics and multidimensional visualization capabilities.
The purpose of this study was first to determine whether a link existed between death from lung cancer and influenza and then to apply any significant findings to increase patient and provider awareness of the danger of influenza infection for patients with lung cancer.
Read More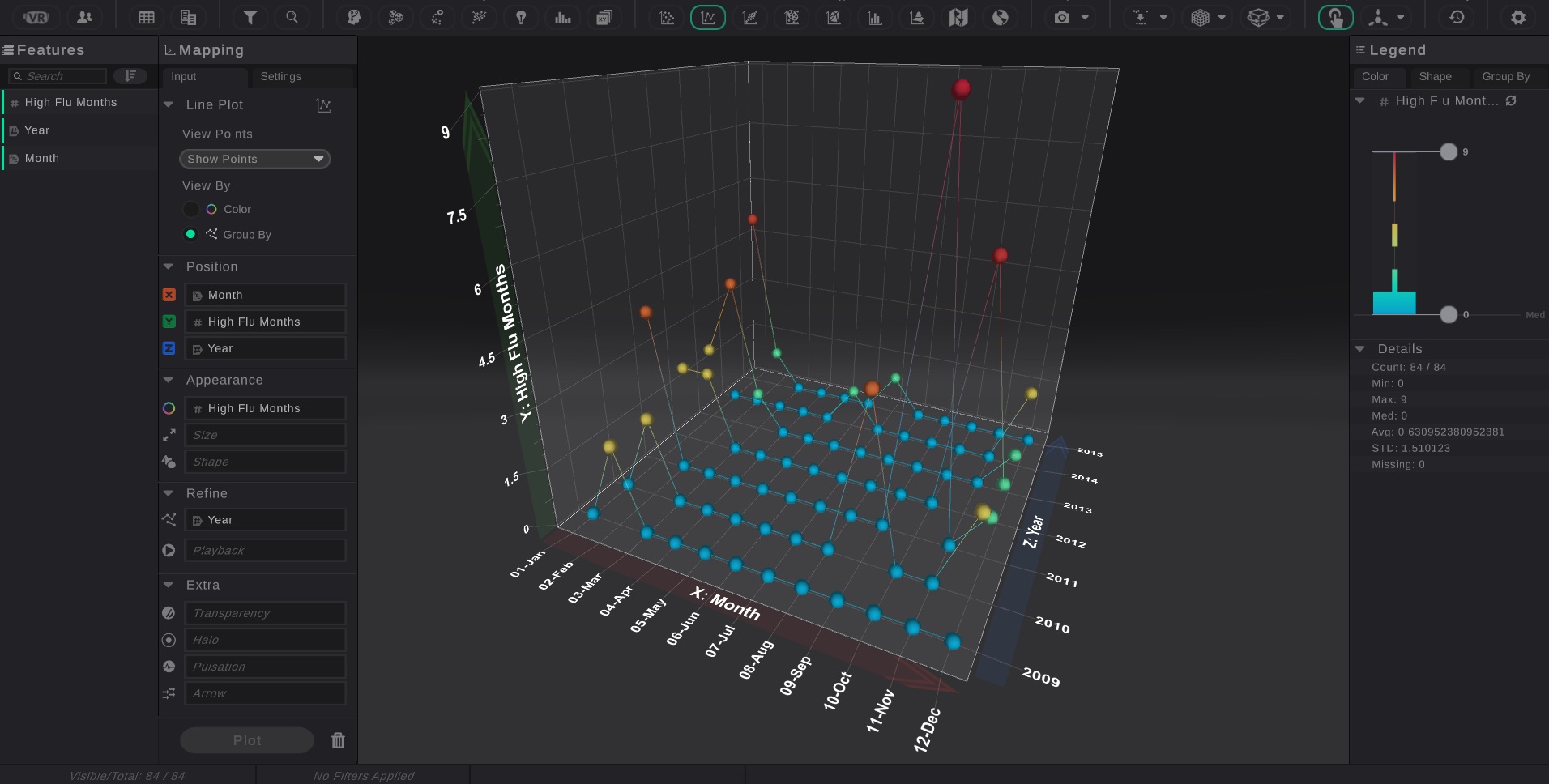 ML Model Explainability Using 3D Visualizations
This webinar is meant to help you learn how you can better understand your machine learning models.

Whether you're the business analyst who may not have a machine learning background or the data scientist who has created the models and wants to refine them in more detail, this webinar will take you through examples of each.
Watch Now
News
Virtualitics wraps up 2021 Caltech data science hackathon
News
Biotech firm Isoplexis utilizes Virtualitics VIP to gain faster and more robust insights
News
Virtualitics VIP New Enhanced Capabilities!
Video Resources
VIP 2021
Isoplexis Duomic
Analyzing Healthcare with VIP
COVID-19 Trends
Featured Video
Virtualitics Webinar - Introduction to our platform and our API
An introduction to the Virtualitics Immersive Platform (VIP) and our new Python API.
Featured Video
IsoPlexis Duomic - In Partnership With Virtualitics
Duomic - A highly multiplexed and simultaneous single-cell transcriptomics and functional proteomics platform to transform biology.
Presented at Advances in Genome Biology and Technology (AGBT) Conference 2021.
Featured Video
Analyzing Healthcare
Using Virtualitics Immersive Platform (VIP), we can analyze and visualize different types of healthcare data.
Here, we examine trends in breast cancer tissue samples using the embedded AI routines within VIP. Next, we can visualize historical outbreaks of the flu to understand which strains likely led to other outbreaks.
Featured Video
Visualizing Global Trends of COVID-19
Using Virtualitics, we explore and visualize the spread of COVID-19 across the globe.